Repsol Sinopec Supports Five Local Charities with £100,000 Donation
Posted 15, Jun 22
Repsol Sinopec has announced its support to five local charities with a donation of £100,000. The North Sea operator will support Aberdeen Cyrenians, Abernecessities, C-FINE, Grampian Women's Aid and Mental Health Aberdeen, with each charity to receive a donation of £20,000.
José Luis Muñoz, Repsol Sinopec CEO said:
"We are delighted to partner with Aberdeen Cyrenians, Abernecessities, C-FINE, Grampian Women's Aid and Mental Health Aberdeen. All five charities contribute greatly to the lives of people living in our local communities. We are really proud to support organisations doing such meaningful and important work."
Graeme Kinghorn, Mental Health Aberdeen CEO said:
"Mental Health Aberdeen (MHA) is delighted to have been selected as one of the five local charities to benefit from the donations made available by Repsol Sinopec. All the local charities chosen have done outstanding work supporting local people and families, especially during the pandemic and Repsol Sinopec's commitment to support them all is incredible.
"MHA has committed its donation to support the refurbishment of new premises on Union Street and will name one of its eight counselling rooms after the company. The building will support local people for decades to come."
Chris Bennett-Taylor, Aberdeen Cyrenians CEO said:
"We are so grateful for the donation made by Repsol Sinopec. The donation will go towards the ongoing costs of running key services such as Direct Access, a service that supports anyone facing crisis, whether they are at a tipping point or feeling completely overwhelmed, where they can access essential items as well as advice and support from our team; and our Ending Violence and Abuse Aberdeen (EVAA) service that supports people facing violence or abuse in their homes.
"The support we offer gives people a helping hand through incredibly difficult and overwhelming circumstances and helps them overcome isolation and build recovery so that they can flourish again."
Once again we'd like say a massive thank you to Repsol Sinopec for allowing us to continue supporting those in need during this challenging time."
Alison Hay, Prevention and Development Lead Grampian Women's Aid said:
"Grampian Women's Aid is delighted with the donation and look forward to building a partnership with Repsol Sinopec for the future. The donation from Repsol Sinopec will make a positive difference to women, children and young people who experience domestic abuse in Aberdeen and Aberdeenshire. It is estimated that one in four women will experience domestic abuse in their lifetime. Grampian Women's Aid provide refuge accommodation, specialist domestic abuse support and advocacy services for women, children and young people."
Danielle Flecher-Horn, Abernecessities Founder said:
"We're hugely grateful to Repsol Sinopec for electing us as one of their nominated charities. It has been a tumultuous few years for everyone, for those experiencing financial hardship the challenges are even greater. Sadly, due to the current cost of living crisis we have seen a further influx in applications from families seeking much needed support; thanks to Repsol Sinopec's kindness and generosity we can continue to help babies, children and families living across the North-East with basic essentials that no child should go without. Together we can truly make a real difference in our community and to the lives of the children across our city and shire. We are truly thankful."
Fiona Rae, C-FINE CEO said:
"The donation from Repsol Sinopec is hugely appreciated by myself and all the team at CFINE. This significant contribution ensures we can continue to deliver the essential services across the priority communities of Aberdeen and surrounding areas and maintain the ongoing support to the thousands of individuals and families experiencing financial insecurity and food poverty."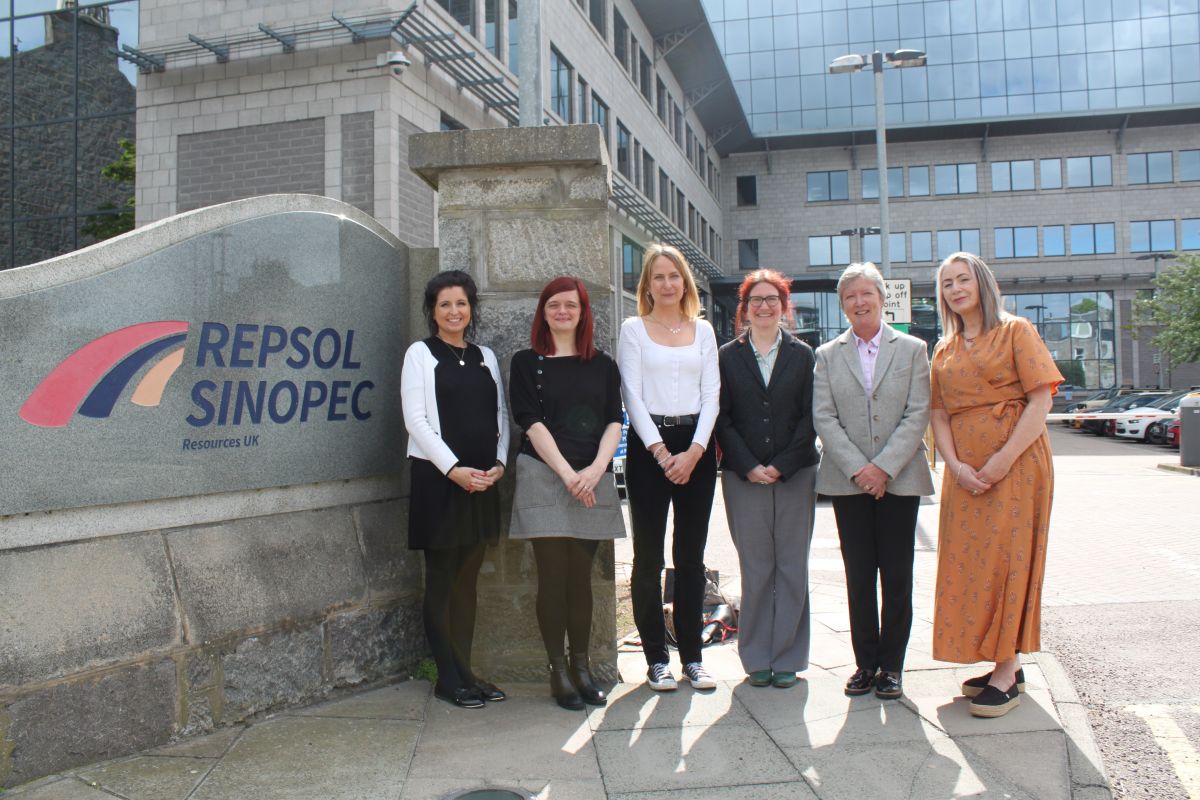 NOTES TO EDITOR:
Aberdeen Cyrenians - a charity dedicated to supporting people affected by homelessness, violence, domestic abuse and other forms of social exclusion.
AberNecessities – supporting local, underprivileged families in Aberdeen with essential items to care for their babies and children.
C-FINE (Community Food Initiatives North East) - a charity and social enterprise, providing essential support services to service to thousands of people experiencing hardship in Aberdeen and Aberdeenshire.
Grampian Women's Aid - offer a free, confidential and non-judgmental specialist services to women, children and young people in Aberdeen and Aberdeenshire who have experienced domestic abuse.
Mental Health Aberdeen - a local charity that provides counselling and information services to adults and young people experiencing difficulties related to their mental health and wellbeing.